Giacomo Brunelli is an Italian photographer based in London. His first two major projects, The Animals and Eternal London have received great critical acclaim and were published as books by Dewi Lewis Publishing. Brunelli has exhibited widely and received several awards including the Sony World Photography Award, the Gran Prix Lodz, Poland, and the Magenta Foundation's 'Flash Forward 2009'.
His work is held in many private and public collections including the Museum of Fine Arts Houston, The New Art Gallery Walsall, UK Kiyosato Museum of Photographic Arts and Portland Art Museum, USA.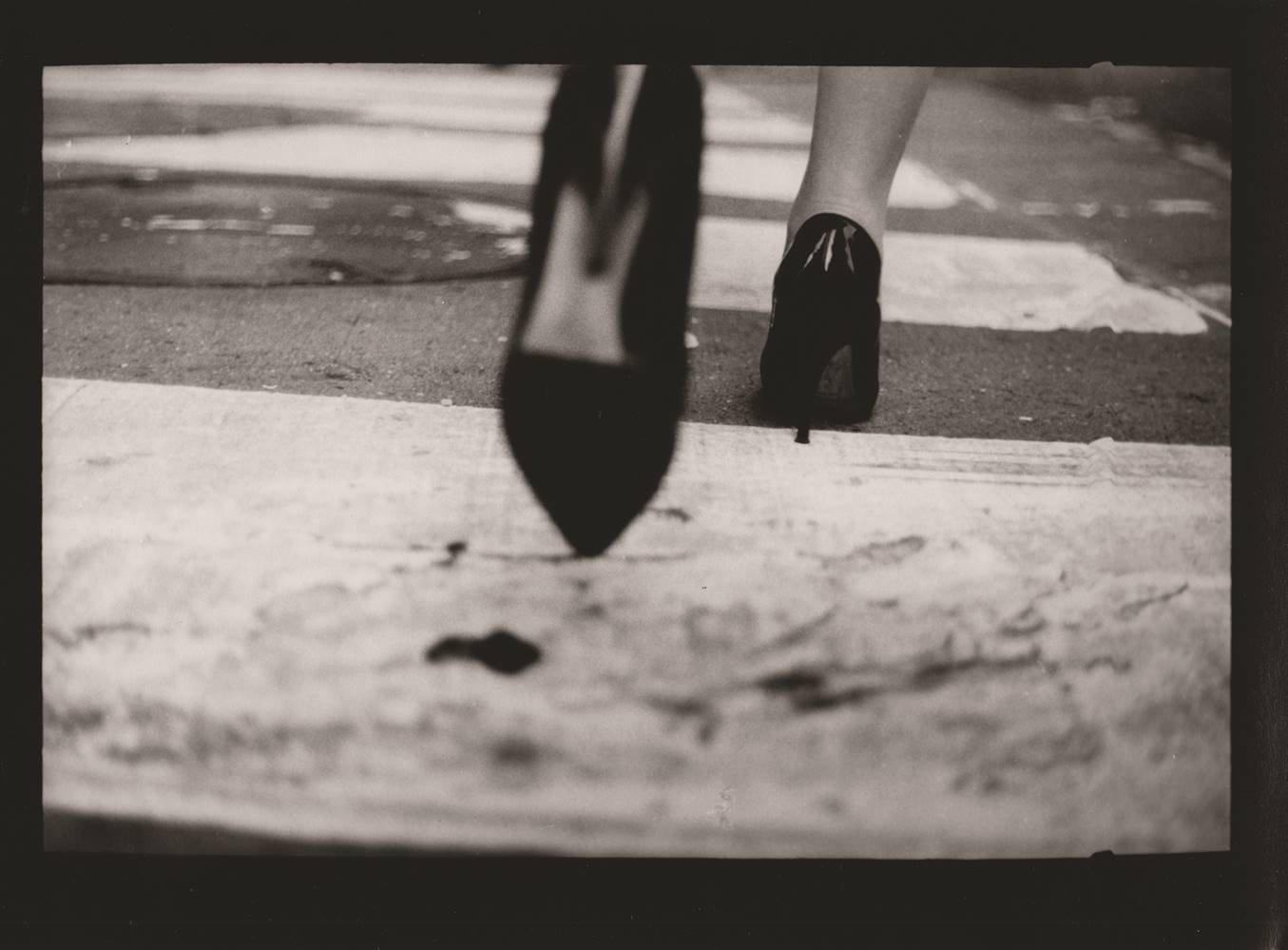 ---
Can you tell us a little about your background and what attracted you to/how you started working with photography?

I never studied photography formally but i have always used a darkroom. I like the idea of being an artisan, it is an extension of my aesthetic. My approach is very basic. I use a kodak trix 400 black and white film, i have learned over the years that the right kind of film as a starting point is very important as it allows me to give the density that i want to my images. I have to make compromises in the darkroom when i am creating a print. I try to get my subjects in focus in the camera but i am also trying to create high contrast in order to achieve the silhouettes I want when I am printing. I also use a fiber based paper for printing. Together, these techniques create the look to the prints that I like.

Who are your photographic influences?

I have been influenced by Lartigue, Walker Evans, Cartier-Bresson, William Klein, Robert Frank, Lisette Model, Berenice Abbot, Muybridge, Giacomelli.

What kind of gear do you use?

Shooting with a 35mm Miranda from the 60s, what I like the most are its limits, like having to change the film after 36 shots, for instance. It forces you to stop and slow down, take a break and have fresh thoughts. The same happens in the darkroom, where you open yourself up to the unexpected. I think I produce a certain type of work because of my printing background. At the end of the day I am an artisan — I know many secrets that come to life with film and in the darkroom.

It is distinct in your series a film-noir style. What is the inspiration, motive behind this decision?

I have only started looking at film noir movies in recent years, so it is more something within myself that attracts me to these kinds of images. I use photography to fulfil my desire to create. I must say that I do find the 'moods' of film noir to be very fascinating — alienation, ambiguity and amnesia.

From London to New York. How did you decide to start this project in the other side of Atlantic?

New York has been photographed by the masters I admire and grew up looking at their images so I just wanted to take a big challenge!

When photographing out on the streets, do you feel you are invading a person's privacy?

Most of the time, I do not think I am being very intrusive myself when I photograph people. I never touch them or do anything inappropriate and most of my subjects don't even realize that I am photographing them, especially when it's noisy on the street-as in New York or London-and they can't hear the shutter on my camera. But I do think street photography can invade someone's privacy, yes it can be like someone bumping into you as you walk. As a photographer, when I follow people, I have this need I feel inside me, I want to get the picture I want no matter what. I only use a 50mm lens so I do have to get quite close to the subject for my pictures. But it's part of a bigger plan if you like, part of my art, it's for what I do. So when I look at the images I have taken, the pleasure that I get from capturing the image I want is enough to justify that brief moment of invading someone's privacy.

In much of your work you use a very low angle of view, why is this?

This is a very interesting question as it actually deals with my equipment. When I started photography, mostly shooting animals, I was using my father's camera, a 1960s Japanese Miranda Sensomat 35mm. Five or six years later, I discovered a vertical viewfinder that fitted the camera so I could look through it from above as you can with a six-by-six camera, for instance. That intrigued me, because it gave me a fresh view of the world. I then did my London project with the new viewfinder as well as my animals series. This type of viewfinder enables me to hold the camera at waist level, giving me this low-angle perspective that I like, as well as helping me to be more discreet when shooting on the street. So, over the years, my creative vision has adapted to the equipment.

We don't often see people's faces in your images — is this deliberate?

I do this without being aware of it, really. But I suppose, if I think about it, I don't like including contemporary faces of people because I always like my images to have a timeless feeling. Faces can tell you a lot about a place and time, and these sorts of contemporary details would hurt my vision of the images I'm trying to create. When I look for an interesting picture, I'm probably drawn to a particular person by the type of raincoat, jacket, or hat they're wearing, so the subject becomes less of a recognizable figure. This makes my images more graphic, more iconic, and more mysterious and open to interpretation.

Why are silhouettes of people so prominent in your work?

Again, when I see the image in my mind, I tend to see the silhouette first. Then I start to follow people, most of the time from behind, and I start to imagine how they might react to my presence. When they become aware of me, then they start to act, in a way— sometimes they get annoyed, because they don't like to be followed, so they become anxious. This is one way that I like to find an image, by making people feel uneasy—it's part of the chase, if you like. I suppose I started my photography by stalking animals, and it's become an important part of my art, a sort of fieldcraft—following people, predicting their reactions, and capturing them at the right moment. In this way, the subjects become characters, as it were, and I can imagine them in my own stories. I like that sort of ambiguity, so the images become like films noirs, in a way.

You often include animals in your street shots—what attracts you to them as subjects?

I've always loved animals. I grew up in the countryside in Umbria in Italy, so I was surrounded by cats, dogs and pigeons. So, when I first picked up a camera, I looked for animals to photograph—they were easy to find and very close to me. I photographed animals for six or seven years, and when I moved to cities, such as London and New York, it was only natural that I was drawn to them there as well. I'm fascinated by the shapes and forms they make, and feel they complement the urban landscape.

What personal statement would summarize your approach in photography as individual and as practitioner?

I have never been tempted to use a digital camera. It's both the film camera itself as an object that I like and the final product that the whole process creates. A print created in this way is such a wonderful tactile object that you can hold in your hand. I love being able to craft a print and then see it hanging in a gallery. Also, when I am out in the street using a film camera, changing the rolll becomes a very important part of the creative process for me. When I am running out of frames, it makes me pay extra attention to what I am photographing and once I have changed a roll of film, I often come up with a fresh set of ideas. Even the fact that I use an old camera, which sometimes goes wrong, creates an anxiety and an extra challenge that I have to work with. I believe that helps me creatively in the field as well.

What tips would you give to anyone looking to become a street photographer?

Firstly, it's very important to be out on the street as much as you can, people don't realize how much you have to work to improve. The more you shoot and the more images you produce, the more you learn. From my point of view, I have been a printer for 25 years and that has taught me a lot about what I have to look for when I compose a picture such as the tonality of the grays across an image. Also, the editing process is crucial, for instance out of the 50/100 rolls I might typically shoot during a project, I would select 20 to 30 images to be published or exhibited. I could show 50-100 different stories but it's important to be very selective and only pick the narratives that say what I want.
All Photos: ©

Giacomo Brunelli